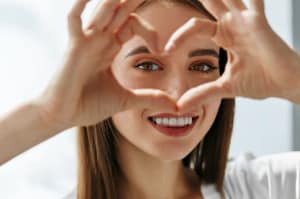 Whether you've recently noticed a decline in your sight or have never seen it in 20/20, if you're considering having LASIK, it's important to consider all the benefits and risks to make an informed decision.
Most commonly, people are curious as to what LASIK eye surgery is. In a nutshell, LASIK uses lasers to cut and reshape the cornea, which is located in the front of the eye, so that light focus on the retina for better sight. This simple procedure that lasts about twenty minutes is completed using lasers that cut "flaps" on the cornea to either flatter the cornea if nearsighted or steepen the cornea if farsighted.
Over the years, our board-certified ophthalmologists at Utah Eye Centers have seen cases across the board. So here are answers to some common questions we get about the procedure.
Who is LASIK for?
LASIK is an excellent solution for anyone:
18 and over
who is in good eye health (no cataracts, chronic dry eye, or glaucoma)
no autoimmune diseases,
no elevated hormone levels that could interfere with the shape of the eye (i.e. pregnant or breastfeeding)
Who are experiencing:
Nearsightedness
Farsightedness
Astigmatism
Is LASIK eye surgery painful?
Keep calm! LASIK eye surgery isn't painful at all. However, many patients experience issues with nerves, which doctors have a remedy for. Otherwise, after the doctor administers numbing eye drops, besides slight pressure, the surgery is virtually painless.
How long until I experience the results?
Immediately! That's right, LASIK eye surgery is a zero downtime procedure with immediate results. Although you may resume regular day-to-day activity immediately, we advise you to schedule to be picked up following your procedure.
Can LASIK permanently damage my eyesight or cause blindness?
Rest assured, the laser used in this procedure only deals with the eye's outermost layer, presenting no risk of permanent blindness. You must consult a board-certified ophthalmologist when considering this surgery that will unlock your sight of the world. As with any procedure, there are potential risks and side effects. Let's discuss
What are some side effects/risks associated with LASIK?
Impaired night-time vision
Dry eyes
Inflammation
Infection
Under or overcorrection
How long will my results last?
One of our board-certified ophthalmologists will use a laser to cut and reshape the eye. Unfortunately, the results tend to be permanent with the year-over-year wear-and-tear expectancy as with any set of see-ers!
LASIK can be a fantastic alternative to glasses, contacts, or plain old suffering with less-than-perfect eyesight. You may be the ideal candidate to experience this safe and effective 20-minute procedure that provides a lifetime of insightful memories, improved focus and better vision for years to come!
Please don't delay. Contact our office to schedule your consultation today!