Picking out new eyeglasses is an exciting time and you may be eager to find a new stylish set of frames. Whether it's your first pair with a new diagnosis or a new pair for a special occasion or work, the shopping experience is equally exciting. You'll want to ensure that your chosen frames correct your vision while also fitting your current lifestyle and personal aesthetic. Follow these tips while shopping for your new frames.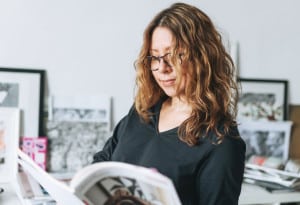 When shopping for eyeglasses, be sure to have your pupillary distance (PD) measurement ready. This measurement is the distance between the centers of your pupils and helps you find glasses that best fit your face. The average adult's PD is between 54-74 mm, and kids are between 43-58 mm.
Search for the right frame shape
There are also a few things to consider when it comes to frame shape. If you choose round frames, you're bringing contrast to angular features while oval frames soften defined face lines. Rectangular frames break up the face structure to make your face appear longer and thinner, while colored frames draw attention to your eyes. Understanding your current face shape and what you want to accentuate is important before purchasing new frames.
Find a color that complements your skin tone
Most people wear a chic, professional black frame that works with any style. However, if you want to branch out, consider what colors best complement your skin tone.
Black, gray and blue frames are often recommended for cool undertones, while tan, pink and red are suggested for warm undertones. Whatever you choose, make sure you feel comfortable and confident!
Stock up on accessories
When choosing accessories for your glasses, you'll want to understand your lifestyle needs and how to adjust to them. If you are active and want to wear your lenses, you'll need a pair of chums to your glasses secure during physical activity.
If you work on a computer screen during the day, you'll want to invest in a pair of blue light-blocking lenses to reduce eye fatigue. And of course, you'll want a solid lens case to store your glasses properly while not wearing them.
Our team at Utah Eye Centers is a full ophthalmic practice offering general, retina, pediatrics, cosmetics, and refractive care. We can help our patients get the eye care they need to help them see the world clearly. Visit our website or call (801) 476-0494 to schedule an appointment today.