Summer is arriving quickly and it's time to make a plan to protect your long-term vision. The shift of the seasons is an exciting time for many and comes with outdoor activities like swimming, camping and hiking. While fun for many, these activities expose your eyes to increased UV rays that can damage your eyes if there's a case of prolonged unprotected exposure. Follow these tips for eye protection in the summer months.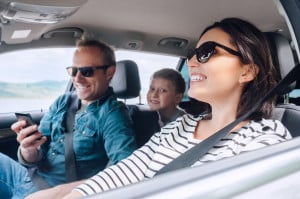 Wear sunglasses with ultraviolet protection
Although it may be tempting to go with a more stylish pair of sunglasses, always be sure to opt for the pair with advanced UV ray protection. While shopping, only buy sunglasses with a UVA and UVB protection label. UV rays penetrate the eyes from all angles, so be sure to find a pair that's a good fit for your face shape and thoroughly covers your eye.
While shopping, why not get eye protection for the whole family? With the right stylish pair of glasses, you'll stand out at your next family vacation, road trip or lunch date. Happy shopping!
Wear pool goggles
Always be sure you and your kids wear goggles when swimming in bodies of water this summer. You never know what bacteria could be hiding under the service and you don't want to risk an eye infection or other unknown disease.
Be sure to take your contacts when swimming too because viruses and parasites can lodge under your contact lenses, causing further infection. If you suspect you have an eye infection, be sure to contact your local eye doctor or instacare immediately. And of course, do not swallow any of the water!
Find a stylish hat
The onset of summer means hat shopping! You'll never go wrong with a stylish floppy hat or baseball cap to protect your eyes and skin from the sun's rays! Style your hat with a brightly printed pool cover-up and strappy sandals to complete the look.
You can also wear your hat to complete everyday activities like weeding the garden and mowing the lawn.
At Utah Eye Centers, we provide world-class vision services nationwide to help you see your best and protect your long-term vision. Visit our website to learn more about our services and treatments, like LASIK, glaucoma, cataracts, basic eye care services, and more. We look forward to helping you maintain a healthy vision lifestyle!