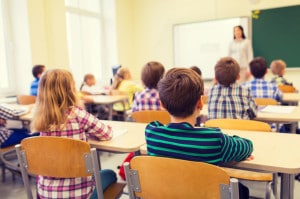 Another new school year is just around the corner, making it a great time to schedule an eye exam for your child. Childhood eye diseases are one of the most common causes of vision loss in America. These diseases often go undetected and untreated, but they can be prevented. The earlier a child is diagnosed with a childhood eye disease, the more likely it is that treatment will restore vision. These problems can include:
Amblyopia. This condition occurs in early childhood and is commonly known as a lazy eye. Symptoms can include a wandering eye, eyes that may not appear to work together, or poor depth perception.
Strabismus. This eye problem is caused by a nerve injury or dysfunction of the muscles controlling the eye. This will cause a misalignment of the eyes which will make one of the eyes turn inward, outward, downward, or upward.
Nasolacrimalduct Obstruction. This is the obstruction of tear ducts, which leads to an excess of tears. Its most common cause is the failure of the membrane at the end of the tear duct.
Beyond these vision problems, poor vision can directly impact a child's ability to learn. One of the most common ways a child's learning can be impaired is with difficulty reading. This can be due to a number of different factors, such as not being able to see the words on the page clearly or not being able to track words correctly. They might also have trouble seeing the board or screen in the classroom. Other effects of substandard vision on learning abilities can include problems with depth perception and spatial awareness, as well as difficulties with hand-eye coordination. All of these problems can make it extremely difficult for a child to succeed in school. If you suspect that your child may be suffering from any of these problems, it is important to schedule an eye exam as soon as possible.
At Utah Eye Centers, our mission is to provide each patient — child, teen, adult or senior — with personalized patient care and extraordinary service. We are a full ophthalmic practice, offering general, retina, pediatrics, cosmetic and refractive care. Our doctors are dedicated to reducing the visual impairments patients experience through prevention, diagnosis and treatment.
Our convenient locations each boast a full-service, state-of-the-art ophthalmic practice, providing a broad range of procedures and using advanced diagnostic technology and vision correction products to properly treat and enhance your vision quality. Want to learn more or schedule an appointment? Call us at (801) 476-0494