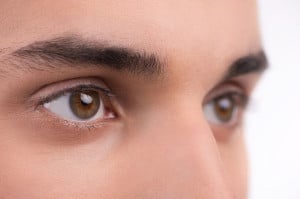 Do you wear contacts? Proper contact lens care is vital for your eye health. Here are four simple ways to take better care of your eyes if you wear contact lenses:
Use a sterile solution: Purchase and use a quality contact lens solution and/or eye drops. Sterile solutions can help prevent infection. We can provide some recommendations if you're looking for a solution that's right for you.
Scrub your hands before handling your contacts: Before you put in or take out your contacts, wash your hands thoroughly. This helps to prevent any dirt, dust or bacteria from getting onto your contact lenses and into your eyes. Make sure the soap you use is a mild hypoallergenic variety that contains no lotions, perfumes or cosmetics, as they can leave behind an oily film or residue that can transfer to your contacts. Use a towel with little or no lint.
Follow the rules. Each different type of contact lenses has different care and wear guidelines. Some people don't closely follow the recommended wear schedule for their contacts. No matter which kind of contacts you wear, follow all usage guidelines and recommendations for daily use. Switch to a fresh pair of contacts when recommended as well. It's vital for keeping your eyes healthy. Also, make sure you're getting an eye exam annually or if your eyes are bothering you. Don't ignore eye pain, discomfort, redness or any changes in your vision. Get it checked out.
Do not sleep with your contacts. If you're not supposed to sleep in your contacts, don't. There are many people who either forget to take their contacts out when they sleep or don't think sleeping in contacts can damage their eyes. Leaving your contacts in while sleeping, however, can do serious damage to your eyes. Even if you can sleep with your contacts in, it may not be the best choice. Follow all rules for your lenses, and ask us any questions you may have.
Have questions about which type of vision correction is right for you? We're here to help! Haven't worn contacts before, or for many years? Today's contact lenses are designed to be easy to use and could be a great option.
If you think it would be nice to finally not worry about contacts anymore and see 20/20 clear vision, you might want to consider LASIK. You can count on our trusted team of experienced professionals take great care of your eyes during a LASIK procedure. Curious if you're a good candidate for LASIK and how much it costs? Call us today to learn more! (801) 476-0494.