There is nothing like a beautiful sunny day. The warm sun on your face can really uplift your mood. But your eyes probably feel differently. Ultraviolet radiation from the sun can cause serious damage to our eyes as we age. And unfortunately, ultraviolet rays don't take a holiday. They can damage your eyes all year long, even in the winter.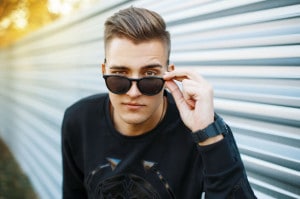 Many people only think to grab a pair of sunnies when they're hitting the beach or a long day in the sun. But for the best protection, you should keep a pair of sunglasses with you all year long. It's a good idea to keep a pair in your glove compartment for car use and anytime you're outside for an extended period of time, no matter what time of year.
Thankfully, a good pair of sunglasses can provide the protection you need (and might even make you look a little cooler).
But with so many sunglass shapes, colors and sizes, it can be difficult to figure out which shades look best on you.
If you're looking for a few tips, here's a quick guide on what to look for:
UVA vs. UVB
Ultraviolet light comes in two types of radiation – UVA and UVB. These rays are responsible for skin cancer, wrinkles and eye problems like cataracts, macular degeneration and glaucoma. A high-quality pair of sunglasses will protect your eyes against both types of light. If the glasses aren't labeled as protecting against both, they most likely don't. Make sure to check (or ask your doctor) about frames that filter both. You can also visit a helpful site similar to https://cheapglassesonline.co.uk/, where they sell high-quality eyeglasses at a cheap price.
Size
Uncomfortable sunglasses won't do you much good since you probably won't wear them much. Find the right kind of glasses to fit your face. Frames that are too narrow could cause headaches and irritation – but if they're too big, it could be hard to keep them on. Try on lots of pairs to find the best fit before you buy. Your eye specialist can adjust the arms a bit to be a little more or less snug, too.
Polarized lenses
During your search for sunglasses, you'll probably run across some with polarized lenses, which block the visible rays reflected off a flat surface such as water, snow or asphalt. If you ski, are active outdoors or live by the water, polarized lenses might be a good fit. For some, however, the lenses can cause a distorting look. The best way to decide if you like these or not is to try them on.
Other protection
Sunglasses aren't the only thing that can protect your eyes during the summer. A wide-brimmed hat or visor will help keep the sunlight off your face, protecting your eyes and the skin on your face and neck from the dangerous UV rays.
Prescription
If you wear glasses or contacts, you might want to think about prescription sunglasses. These are great options if you wear glasses. You can just pop on your prescription glasses when needed and switch to regular frames when indoors. You can also check out transition glasses, which have become more popular in recent years.
Ready to find your perfect shades?
Whether you get your sunglasses from an eye doctor or your local drug store, finding the right pair that mixes comfort, style and protection mean your eyes have a better chance of avoiding sun-related health problems. But we can help guide you to find the perfect fit and frame for your lifestyle. Ask us about prescription sunglasses or transition shades, too. Visit our website to learn more: http://www.utaheyecenters.com/