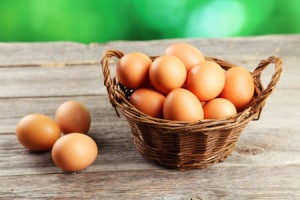 Did you know diet can affect your eyesight? It's true. Although these six foods won't fix vision issues, they can have a positive impact on your overall and optical health. They may even reduce your chances of getting macular degeneration.
So today, we'd like to put six foods on your shopping list that could be considered eye candy. They won't cure cataracts. They won't provide the kind of clarity that comes with Lasik. But they are clearly the coolest eye foods around.
Eggs
Egg yolks contain vitamin A as well! So instead of carving around the yolk when eating your sunny-side-up eggs, enjoy the whole egg. It's healthy. Eggs also contain lutein, zeaxanthin and zinc, which have been shown to reduce macular degeneration. Here are 60 different ways to serve up eggs for breakfast, lunch or dinner.
Carrots
Yep, carrots really are good for your eyes! Carrots contain beta-carotene (vitamin A). If you want to have good vision, this is an essential nutrient. If carrots aren't your thing, you can find the same nutrient in sweet potatoes and yams. Or a quality multivitamin.
Leafy greens
Consider kale and spinach at the top of this list. They are packed with lutein and zeaxanthin. You may also want to consider Swiss chard, collard greens, broccoli, and — gasp — Brussels sprouts.
Wild-caught salmon
Add this to your fish-Friday menu. Salmon is high in Omega-3 fatty acids, which is awesome for eyes. Omega-3 has been shown to reduce the risk of macular degeneration, which is the leading cause of vision loss in people over the age of 60. Ask us about supplements that can support eye health.
Almonds
Here's another food that will slow down the rate of macular degeneration. Even Almond Roco would work. Almonds contain vitamin E, which has been shown to reduce macular degeneration. Nuts in general are good for your overall health. They are an unprocessed snack that's full of essential nutrients.
Citrus fruits
Citrus fruits round out our list of eye candy. These fruits are high in vitamin C, which is another key vitamin in reducing macular degeneration. Other powerhouses for vitamin C are berries, broccoli, green and red peppers and Brussels sprouts.
Truth is, there are plenty of healthy food options when in comes to improving your vision. When looking at your menu, consider vitamins A, C, and E, as well as your Omega-3 fatty acids, zinc, lutein, and zeaxanthin. If you have any questions regarding your eye health, don't hesitate to talk to us and learn more about how you can improve your vision. Just give us a call at (801) 476-0494