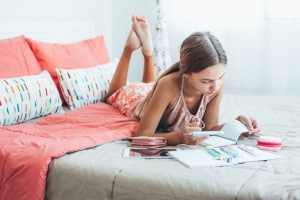 Another new school year is here, making it a great time to schedule eye exams for your children. Annual vision checkups are an opportunity to catch and correct eye problems early and prevent eye-related learning issues at school. At Utah Eye Centers, we're proud to have Dr. Michael Bullard on our team. He is the only full-time Pediatric Ophthalmologist in Weber and Davis Counties and is dedicated to eye issues involving children. He and his team are great with children of all ages and have treated a wide variety of eye problems and conditions, including:
Amblyopia. This condition occurs in early childhood and is commonly known as a lazy eye. Symptoms can include a wandering eye, eyes that may not appear to work together, or poor depth perception.
Strabismus. This eye problem is caused by a nerve injury or dysfunction of the muscles controlling the eye. This will cause a misalignment of the eyes which will make one of the eyes turn inward, outward, downward, or upward. Dr. Bullard treats kids and adults for strabismus.
Nasolacrimalduct Obstruction. This is the obstruction of tear ducts, which leads to an excess of tears. Its most common cause is the failure of the membrane at the end of the tear duct.
Utah Eye Centers is the leading provider of vision care along the Wasatch Front. Our mission is to provide each patient — child, teen, adult or senior — with personalized patient care and extraordinary service. We are a full ophthalmic practice, offering general, retina, pediatrics, cosmetic and refractive care. Our doctors are dedicated to reducing the visual impairments patients experience through prevention, diagnosis and treatment.
Our nationally ranked surgeons have been performing refractive surgery for more than two decades using the most advanced technology and procedures available, including the CATALYS precision laser.
We have convenient locations in Bountiful, Ogden, Orem and Salt Lake City, where our experienced doctors and staff offer comprehensive vision examinations. Each location has a full-service, state-of-the-art ophthalmic practice, providing a broad range of procedures and using advanced diagnostic technology and vision correction products to properly treat and enhance your vision quality. Want to learn more, or to schedule an appointment? Call us at (801) 476-0494